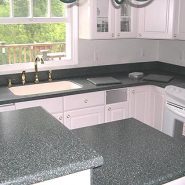 Corian Countertops
Corian counters, also known as solid surface kitchen tops, offer a number of advantages over plastic laminate, ceramic tile and even natural stone countertops. Although plastic laminate countertops are fairly durable and inexpensive, they consist of only a single surface layer of color. This surface can fade over time, and can be damaged by cuts from knives or other sharp objects. They can also become damaged from direct heat. Corian countertops are not as hard as granite but scratches are typically easier to repair. Like granite and other natural or manufactured stone worktops, the color and pattern is continious throughout the slab.
Corian solid surface counters are nonporous, and both heat- and water-resistant. They're smooth for easy cleaning, and generally have no visible seams. Sinks of coordinated or matching colors blend seamlessly to the work surface and are often the leading reason for choosing Corian.
Finally, because the color goes all the way through the material (instead of a single layer, as is the case with plastic laminate) scratches can be buffed or sanded out. They can also have resistance to mold and bacteria, which ensures that your family isn't inadvertently exposed to illness.
One significant difference between Corian, Caesar stone, Silestone and Vetrazzo is the overall thickness of the material. Corrian is thinner and laminated on a wood base while all our stone countertops are solid.