Here are a few examples of kitchens, wet-bars and worktops. As you look at them, you will find details that might apply to your home or links to the types of material used. Remember, this is only a starting place to help you find the right combination of material, color, style and edge treatment.
Blending the right countertop with beautiful cabinets, tile, wall coverings, fixtures, appliances and windows create a living space you will enjoy for years to come.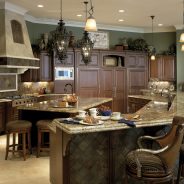 Granite Countertops Fort Myers Finding the best valuee for Granite Countertops in Fort Myers is easy when you choose Granite Building Contractors. We provide free in-home consultations. While you review granite color samples and choose an edge profile, we will measure your new countertop and provide a written estimate. Our simple pricing is straightforward and easy to understand. Granite Building Contractors is a Florida licensed General Contractor based in Fort Myers area. We specialize in granite countertops and take great pride in complete...
read more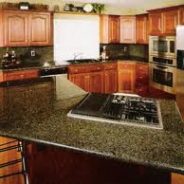 This kitchen features an peninsula counter. The large sizes and number of sections required 2 slabs of material. This particular countertop is Uba Tuba from Brazil. There are many varieties of green granites named UbaTuba. All are beautiful and vary in their shades and patterns. Almost all are mined in China or Brazil. It is not uncommon for the customer to visit the yard to personally select their slabs. This is particularly important if you want a one-of-a-kind or large countertops. Notice the island is full width plus the breakfast bar....
read more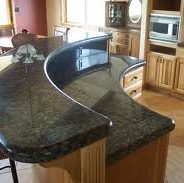 This kitchen features an island with a raised breakfast bar. This is different from the breakfast bar in the Lehigh Acres Kitchen. In this kitchen the eating area is raised but in the Lehigh Acres, the countertop is the same height. The difference is a matter of customer preference. Remember, higher eating surfaces require taller chairs. Color: Uba Tuba granite from Brazil. Edge: 3/4-inch radius with rounded corners The raised eating surface provides more separation between the kitchen and the adjoining room. The choice of Uba Tuba brings...
read more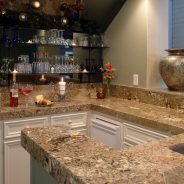 This U-shaped kitchen features Crema Bordeaux granite. This bold pattern is also known as Crystal Yellow granite and Pompei granite are mined in Italy, Turkey, Brazil, China and the USA. This kitchen countertop has a medium height back splash and a thickened edge. This adds a distinct look. The upper and lower edges have a large radius or bullnose. This edge profile is typically called a double radius with laminate or occasionally a "waterfall" edge. Color: Creme Bordeaux granite from Brazil. Edge: 3/4-inch radius with laminated...
read more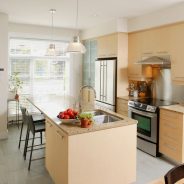 This kitchen features an island with a below-counter sink and integrated table. Because Corian was used, all the various pieces matched perfectly. Since Corian is a man-made countertop material, the colors and texture are uniform. These materials are availabe in 1/2″ and 3/4″ thicknesses so they are installed over a plywood core. This also means all the edges must be jointed which adds to the labor costs. This non-porous material is easy to clean, polish or refinish. It often scratches more easily than granite and hot pans can...
read more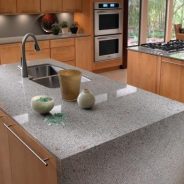 This kitchen features Silastone, a man-made solid surface material similar to Pompei Quartz. Both are combinations of natural quartz bound together into monolithic slabs. Because of the manufacturing process, Silestone is non-porous and does not need to be sealed as natural grainte does. Also since it is a manufactured material, the colors and patterns are much more uniform and consistent. Silestone offers more than 65 unique colors, so no matter what your tastes, they will have something to fit. When comparing Silestone to granite and...
read more