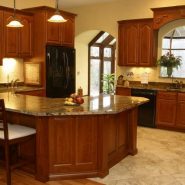 Granite Counter Tops
How long have you dreamed of a granite, marble or Corian countertop? You can stop looking and start planning. Use our Granite Colors page to begin your journey to a beautiful new kitchen worktop, bathroom vanity or wet bar.
Nothing changes a kitchen more than a solid surface countertop. With our wide selection of marble and granite to choose from you will find something you love and can afford. Just because it's granite, doesn't mean it's too expensive.
Just call or email to schedule an appointment. We will bring samples of Granite, Marble and Corian. We will also measure your kitchen, bath, wet bar or barbeque and supply a custom made worktop.
We are a fully insured and licensed, State Certified Building Contractor located here in the Fort Myers area. We service Ft Myers. Bonita Springs, Cape Coral and Lehigh Acres.