Kitchen Ideas
Quality is never an accident; it is always the result of high intention, sincere effort, intelligent direction and skillful execution; it represents the wise choice of many alternatives.
Let us make your kitchen as beautiful as these…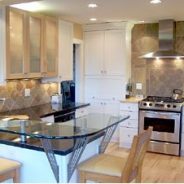 "This kitchen was a remodeled using the existing footprint. The space was very tight and dark, and the client wanted a lighter, more contemporary feel. By using white and natural maple cabinets and wood floors, we were able to create a warm and open kitchen environment. Mixing countertop elements by combining maple, glass and black granite also opened up that end of the room, as did isolating the hood to make the space appear more expansive and generous. "Both the client and I felt that slate would be appropriate for a backsplash to...
read more